Hotel Marble and Stone Restoration
Hotel Marble And Stone Restoration, Cleaning Polishing And Sealing
Marble and stone flooring are a timeless attribute to a Hotel's image. Throughout history, natural stone has been utilized in Hotels as a statement of elegance and beauty.
Marble Everlast provide a range of services to meet your specific needs. We use, state of the art technology and approaches designed to produce results that will last the test of time.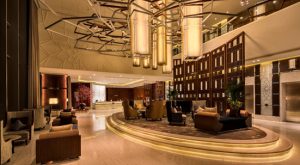 Marble Everlast have provided services to numerous Hotels for over 20 years including the prestigious Park Lane Hotel in London and more recently we have undergone a large scale project at the Stanford Plaza Brisbane.
We value our clients and take our guarantee of high level workmanship very seriously. Our entire team is willing to go the extra mile to ensure a successful project.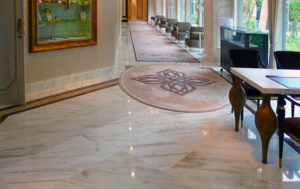 Out with the OLD, In with the NEW (The Treatment All Hotel Lobbies/Foyers Should Have)
Over the course of our time in the industry, we have adapted our approaches, moved forward with technology and allowed hotels to be more productive with their expenditure on Marble and Stone related projects.
The old approach involved applying a typical surface sealer covering every square meter of a Hotels' Marble/Stone Flooring. As Hotels experience substantial amounts of human traffic this was the most common and practical method. Yes it may be seen as cost worthy in the short term, but highly detrimental in the long run. The appearance of a Topical Seal gives off an artificial appearance, almost orange-peel like and far from a high mirror finish a marble and natural stone is capable of. And above all a Topical Surface Sealer doesn't allow the Marble or Stone to breathe naturally and can have detrimental effects on the Marble or Stones' appearance.
After 12 month's you will begin to clearly identify signs of wear and tear, luggage trails and scuffing's as a results of the constant barrage of foot traffic.
Into the second year, the floors will begin to look decrepit and unattractive. Subsequently Hotels will spend a lot of more money to under the same treatment and thus continuing this tedious 1-2 year trend.
Be Aware: Unfortunately the old method is still in effect in Hotels in the South-East QLD area and it is a shame from our point of view that these Marbles and Stone features are not getting the treatment they deserve. Marble Everlast offer a solution to this, which is designed to last decades and provide you with a stone feature to be proud of.
For a full evaluation on restoring your Hotel Marble and Stone Floors, contact us today on 0401 508 938.
Get Started & Book Now!
Brisbane's local stone restorations & repair specialist
Get started on improving your precious stones
and home enhancements.
Copyright 2017 Marble Everlast - All Rights Reserved